Disruption & Innovation: Reshaping Regional Supply Chains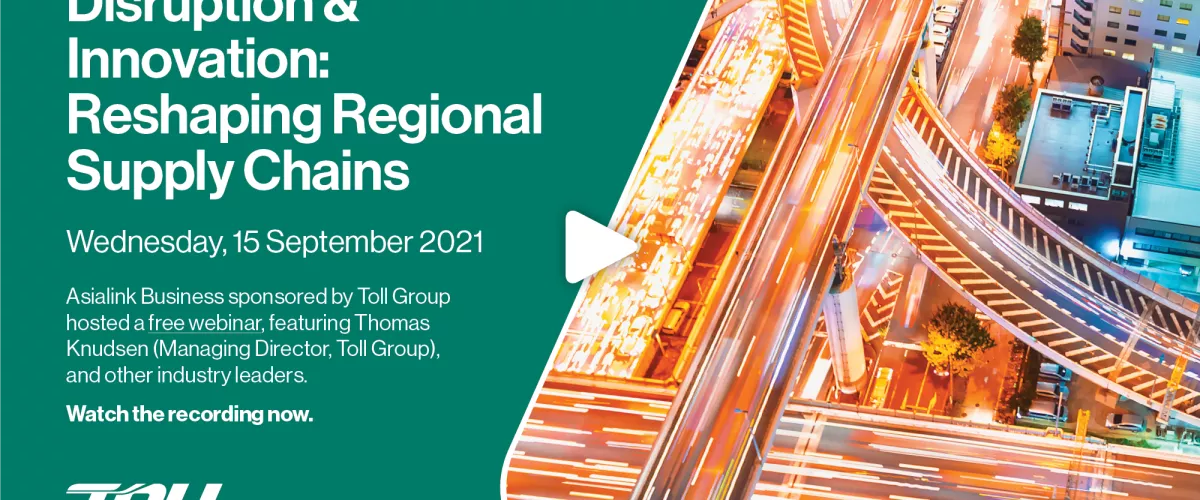 New research highlights the need for immediate industry action
Supply chains in Asia have experienced significant disruption due to the COVID-19 pandemic, steep rises in freight costs and geopolitical tensions with China. Leading Australian enterprises joined Toll Group's experts to discuss the 4 key trends reshaping regional supply chains.
New research from Asialink Business, Disruption & Innovation: Reshaping Regional Supply Chains has put the spotlight on the need to plan now for a future beyond COVID-19.
Toll Group's Thomas Knudsen and Victor Tan joined Kelli Eaton from Super Group Retail and Andrew Brightmore from Foodbuy Australia to launch the report. They discussed how disruption is forcing businesses to rethink their supply chains and, where necessary, shift from lowest cost, just-in-time logistics while remaining competitive and cost-effective.
Global perspectives on local impact
Global ocean and air freight bottlenecks are largely the result of US demand for ecommerce, such as congestion at the Port of Los Angeles.  However, these impacts are a reminder of the need for Australian businesses to take a global perspective.
"Covid didn't cause supply chain instability, but it has emphasised it and put focus on diversified supply chains that aren't reliant on one region," said Toll Group Managing Director, Thomas Knudsen.
"A global perspective is critical when there is finite capacity — even the best laid plans for your own business can be impacted by other pockets of supply and demand."
Asialink research: 4 key trends reshaping regional supply chains
Building resilience

Ecommerce

New and emerging technologies

Sustainability
Resilience: Managing the impact of disruption
Businesses and governments are building the resilience to manage the impact of supply chain disruption - both now and into the future.  Approaches include onshoring and nearshoring, diversifying suppliers, and boosting inventory.
Andrew Brightmore, Executive Director of FoodBuy Australia, said a balance between resilience and profitability is vital.
"Some businesses want to see COVID as a point in time and work to get back to their pre-pandemic state. But another group is looking at their business, customers, and supply chains and accepting it's time for true transformation," he said.
"Resilient businesses will be much better equipped to serve the new customer, which is key to profitability."
The resilience of some businesses continues to be tested by record-high pricing for ocean freight.
"The conditions are tough and it's important to be match fit, have a business continuity plan in place, and prioritise your investments in resilience and resources," said Kellie Eaton, General Manager Transport and International Operations, Super Retail Group.
"The relationships that we've fostered for 10 plus years mean we've had partners to call in through this disruption, and can keep lines of communication open on pricing."
The industry expects volatility and higher prices to remain until at least 2023 when more ocean freight capacity comes online and demand stabilises. Toll Group's Victor Tan, Executive Vice President - Asia and Global Logistics, said pricing demands immediate industry planning and action.
"We don't have a clear timeline for recovery, so we need to look at alternative options now to reduce the pressure on shipping in the next 12 to 15 months," he said.
"Reshoring becomes a strong proposition, but bringing the manufacturer and supply closer to the demand comes with costs and risk."
Ecommerce: Consumer demand stretches supply chains
Global supply chain bottlenecks have a material impact on ecommerce: customers experiencing delivery delays and 'out of stocks' put pressure on brands and their relationships with their customer base.
Customers are driving the demand for ecommerce — and they are spoilt for choice. Time to deliver can be the competitive edge, but owning that function requires infrastructure and resources.
"Scalability is an imperative for ecommerce. Shopping events like Double 11 in China can generate 10 times (the) sales in 24 hours," said Toll Group's Victor Tan.
"Our ecommerce solutions need to consider short- term fixes for bottlenecks and spikes now, and longer-term solutions across time to deliver and visibility."
Technology: Follow the data for visibility and scale
Regional distribution networks are rapidly evolving — and businesses must be prepared to integrate with, and invest in, new technologies such as automation, smart sensors and data analytics.
Andrew Brightmore from FoodBuy says more of the procurement and supply sector should be investing in data – up and down the supply chain.
"Planning, demand forecasting and data visualisation are massive opportunities to bring the supply chain to life and understand it at a granular level to inform better decision making, and empower the visibility that drives trust."
Toll's Thomas Knudsen agreed that technology enables a highly visible supply chain.
"Unlocking end to end visibility within global freight forwarding means opportunities to be agile and work around bottlenecks," he said.
"Automation in this space is not necessarily a solution to a cost problem — but part of significant peaks in demand that are tough to manage manually. Automated warehouses can scale up fast, without forecast, and enable very short supply chains."
Sustainability: Ethical and environmental credentials and capability
From modern slavery to carbon footprints, sustainability has shifted from a 'nice to have' to a clear differentiator as part of rising expectations for customer experience (CX).
Where sustainability used to be about your business — now is about the entire supply chain from sourcing to production to logistics, and more stakeholders are interrogating environmental, social and governance (ESG) performance.
Kellie Eaton, General Manager Transport and International Operations, Super Retail Group, said leading businesses recognise that sustainability is more than just a license to operate.
"We're seeing that it unlocks better business, and starting to build that capability and those relationships that will make meaningful change," she said.
"It's at the front of the agenda now — not in the appendix."
Andrew Brightmore agrees the pandemic has accelerated the sustainable consumer trend.
"The new customer has a heightened sense of health, personal wellbeing, and awareness of where they spend their time and money. It's an opportunity and a responsibility wherever we are in the supply chain."
The future supply chain
Disruption of regional supply chains is here to stay across regulation, consumer expectations, and technology. However, challenge brings opportunity and organisations that are ready to invest in these four key themes with a transformative mindset will lead the way through the post-COVID recovery phase.
The right supply chain partner can help businesses right across the region to mitigate present-day challenges and seize future growth opportunities across the Asia-Pacific region.
"The impact of those themes together is profound. We have a unique window of opportunity to reorganise and integrate with regional partners," said Toll Group's Thomas Knudsen.
"With supply chains across Asia fundamental to businesses in Australia and beyond, agile planning is critical to future business success."
Insights from our industry experts