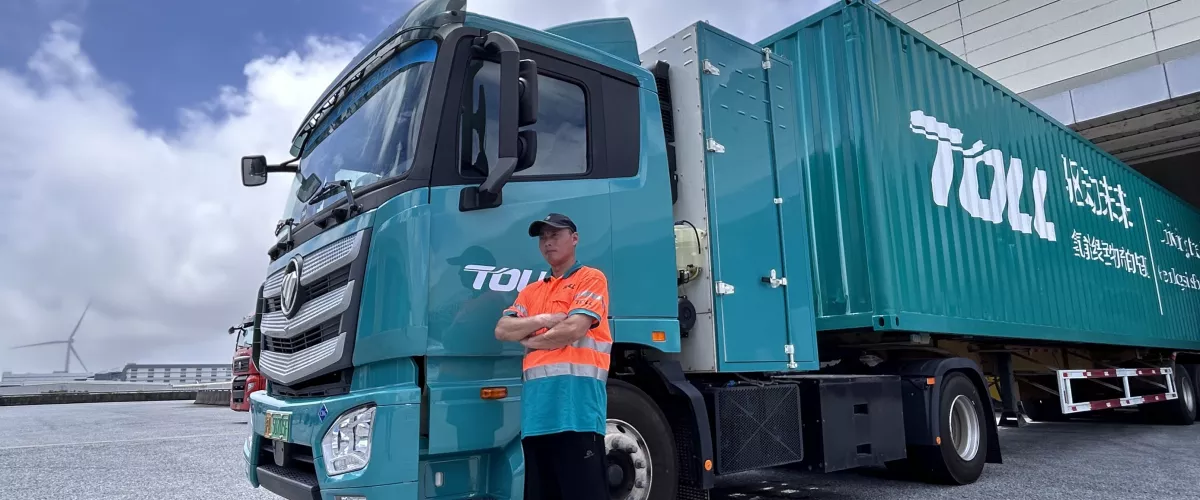 SHANGHAI, 31 JULY 2023 – Toll Group announced today the introduction of its first hydrogen-powered long-haul truck in China, marking a significant milestone in its commitment to sustainable transportation solutions.
The launch of the hydrogen truck is part of Toll's broader sustainability strategy and commitment to achieving net-zero emissions by 2050.
The hydrogen truck will be deployed for deliveries between warehouses in Shanghai. The prime mover will be able to travel 300 kilometres per trip, a testament of the efficiency and viability of this clean energy solution for long-distance transportation. Toll expects the new technology to save up to 149 tons of CO2 emissions annually.
Toll Group aims to transition its full fleet of prime movers to hydrogen vehicles in China over the next two years as hydrogen refuelling infrastructure develops across the country. These are important initial investments, and hydrogen has the potential to help decarbonise the long-distance, heavy transport fleet across key countries in Toll's network.
"Toll Group is committed to driving positive change in the logistics sector by adopting cutting-edge technologies and sustainable practices. The hydrogen-powered long-distance trucks build upon our battery-electric last-mile fleet to offer a holistic sustainable transportation solution for our customers in China who are looking to reduce their carbon emissions," said Jonathon Kottegoda-Breden, Asia Logistics President at Toll Group.
The launch of the hydrogen vehicle follows Toll Group's announcement last year that it will invest in two hydrogen-powered electric prime movers in Australia.
More broadly in China, Toll is on track to transition the final 50 per cent of its last-mile fleet to battery-electric vehicles before 2030. The investment in a zero-emissions fleet aligns with the local government's environmental and sustainability goals and demonstrates Toll Group's commitment to reducing emissions and driving positive change to create a more sustainable future.
-ENDS-
About Toll Group
At Toll Group, we do more than just logistics – we move the businesses that move the world. Our 16,000+ team members can help solve any logistics, transport or supply chain challenge – big or small. We have been supporting our customers for more than 130 years. Today, we support more than 20,000 customers worldwide with 500 sites in 27 markets, and a forwarding network spanning 150 countries. We are proudly part of Japan Post.
Toll Group has 160 facilities in 13 markets across Asia. Toll provides a range of services in the region including supply chain solutions, B2B and B2C solutions supporting eCommerce activities, customs clearance, bonded storage and operation, temperature-controlled operations and freight forwarding.
Learn more at www.tollgroup.com.
Media Relations