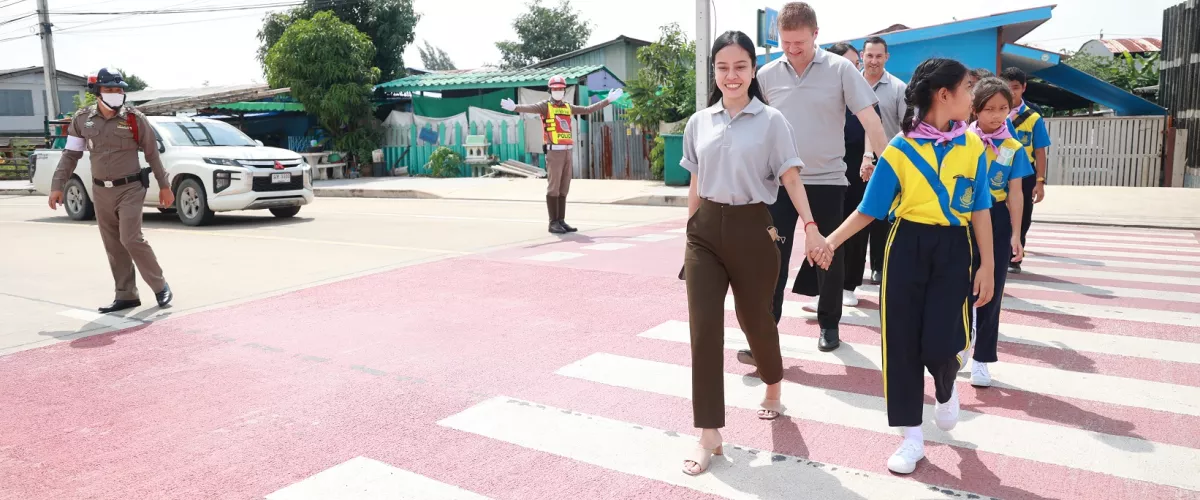 Toll Group partnered with the AIP Foundation, a not-for-profit organisation to promote the Hauling Safety program which equips young people with lifelong road safety skills.  
Now in its second year, the partnership between Toll Group and AIP will focus on introducing road safety measures at two primary schools near Bangkok in Thailand.  The measures include infrastructure modifications and educational materials and resources that aim to support students, parents and community members in tackling high-risk journeys for students traveling to and from school
At the core of the Hauling Safety program are activities to empower and engage our youth to be safer road users. The program is inherently aligned with the UN's global plan and Thailand's national road safety plan.
The partnership follows the United Nations General Assembly resolution in 2020 to improve global road safety. The resolution proclaimed 2021-2030 the Decade of Action for Road Safety and set an ambitious target of preventing at least 50% of road traffic deaths and injuries by 2030.
Advocating for youth, with youth!
According to a report by the Thai Ministry of Public Health, children and young adults aged 5-29 are more likely to die from a traffic accident than any other cause. Between 2011 and 2019, more than 26,000 children died and 265,758 were injured in motorcycle accidents.
The majority of the victims were between 15 and 19 years of age, followed by children aged between 10 and 14 years. Of those, 72% learned to drive a motorcycle from family members and friends; 87% did not pass safety training; 86% did not have a driving license and 55% had been involved in a crash on a 100-110CC motorcycle.
Young people are effective advocates for road safety among their peers when they have access to the necessary safe road behaviors. The Hauling Safety program builds capacity for young people by focusing on lifelong skills to ensure safety on the road.
Road Modifications and Education for a safer school
The schools selected for the 2021-2022 program year are Promrat Rangsan School (Bang Bon area) and Soon Ruam Nam Chai School (Khlong Toei area). The selection was guided by the local government and based on risk-assessment surveys, which demonstrated the school and communities' need for a comprehensive safety intervention.
At Soon Ruam Nam Chai School, Toll and AIP developed educational materials for the students with the intention of distributing the same materials to the other schools in Khlong Toei, creating a lasting legacy of a new and safer road user generation.
On the other hand, Promrat Rangsan School is located in a developing district with a growing population. The increase in traffic coupled with poor road infrastructure, is expected to result in a road safety risk for over 500 students and teachers.
On 14 October 2022, a road modification handover ceremony was held in Bang Bon area, in the presence of Mr Thananchai Mekprasertwanich, Director of Policy and Planning Division in the Thailand Traffic and Transportation Department of Bangkok, Ms Taweepon Chotnuchit, Director of Bang Bon District Office, Ms Nuntharat Thayanpuerd, Director of Road Safety Integration in the Thailand Department of Disaster Prevention & Mitigation (DDPM), along with other representatives from the Bangkok Education Department and the Royal Thai Police.

The materials and road modifications outside the school area aim to promote the importance of education to instill safe road behaviors and increase the safety awareness of the children and wider community, championing a human-centric approach to mobility and safety.
---
About Hauling Safety
Hauling Safety, implemented by AIP Foundation with support from Toll Group, aims to increase public awareness of safe road behaviors and improve road safety education for children, teachers, parents, and community members in Thailand. The program leverages school-based road safety education, public awareness campaigns, and private sector volunteer engagement to engage target communities and promote safe road behaviors.
About Toll Group
At Toll, we do more than just logistics – we move the businesses that move the world. Our 20,000 team members can help solve any logistics, transport or supply chain challenge – big or small. We have been supporting our customers for more than 130 years. Today, we support more than 20,000 customers worldwide with 500 sites in 26 markets and a forwarding network spanning 150 countries. We are proudly part of Japan Post. www.tollgroup.com
About AIP Foundation
AIP Foundation is a nonprofit organization dedicated to preventing road injuries and fatalities in low and middle-income countries. For over 20 years, AIP Foundation has been delivering effective road safety programs in locations across Asia and Africa. To find out more, visit www.aip-foundation.org or connect with us on Twitter @AIPFoundation. https://www.aip-foundation.org/
Media Contact