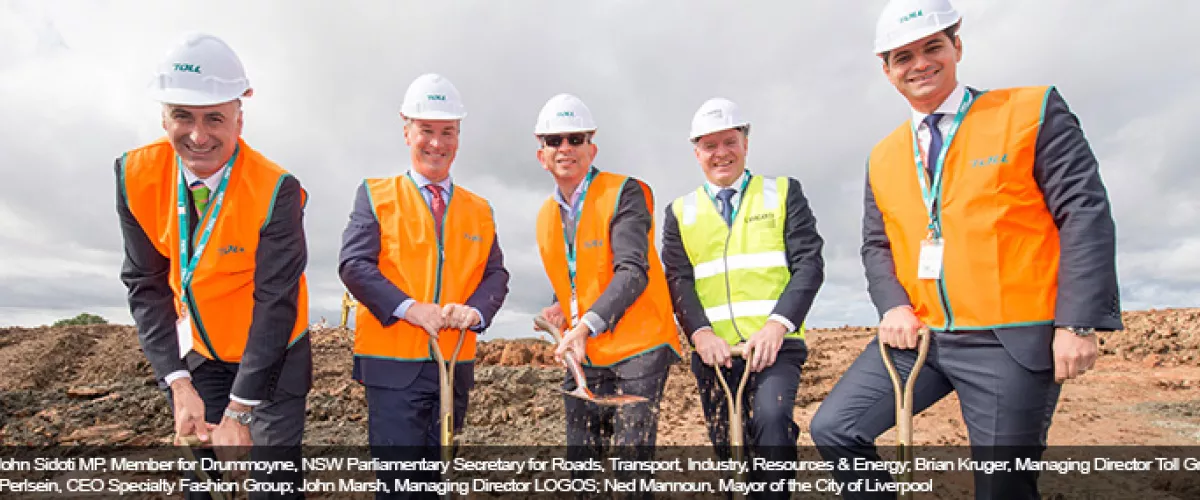 Toll Group has today unveiled its plans to build a state-of-the-art retail distribution centre in collaboration with apparel retailer, Specialty Fashion Group.
The 32,000 square metre distribution centre will be built by LOGOS Group Australia at the Prestons Logistics Estate, Sydney. Fitted with advanced automation technologies to enable fast and efficient distribution to customers, the facility will be one of the first in Australia specifically designed to cater for the growing retail eCommerce market.
Toll has worked closely with Specialty Fashion Group to design a distribution centre that will meet the demands of the retailer's recent growth, and support its continual focus on improving omni-channel delivery including online and 'click and collect' ordering.
The Prestons facility will enable Specialty Fashion Group to get products to stores and customers faster than ever before.
In a ground breaking ceremony at the site today Toll's Managing Director, Brian Kruger, and Specialty Fashion Group CEO, Gary Perlstein, turned soil to mark the start of construction.
Brian Kruger said "We are excited to announce our plans for this innovative distribution centre – an Australian first in automation for eCommerce processing and distribution.
"Our aim at Toll is to connect people and products, and we look forward to working with Specialty Fashion Group to enable a fast, efficient and cost effective supply chain for its customers."
Gary Perlstein said "Currently, Specialty Fashion Group sells a garment a second in Australia. We have worked with Toll to create a supply chain solution that enables our omni-channel strategy across all brands for a streamlined and memorable customer experience."
Toll has designed the facility to include several leading automation technologies including a multi-shuttle tote storage system, goods-to-person pick stations, automated and ergonomic eCommerce processing stations, automatic carton optimisation machines and a tier one warehouse management system.
These technologies will enable the site to manage high volumes efficiently and quickly, despatching products for faster delivery and reducing overall costs per unit.
The facility will employ around 120 warehouse operators and is expected to despatch more than 90 million units annually. Construction is expected to be completed in October 2017.