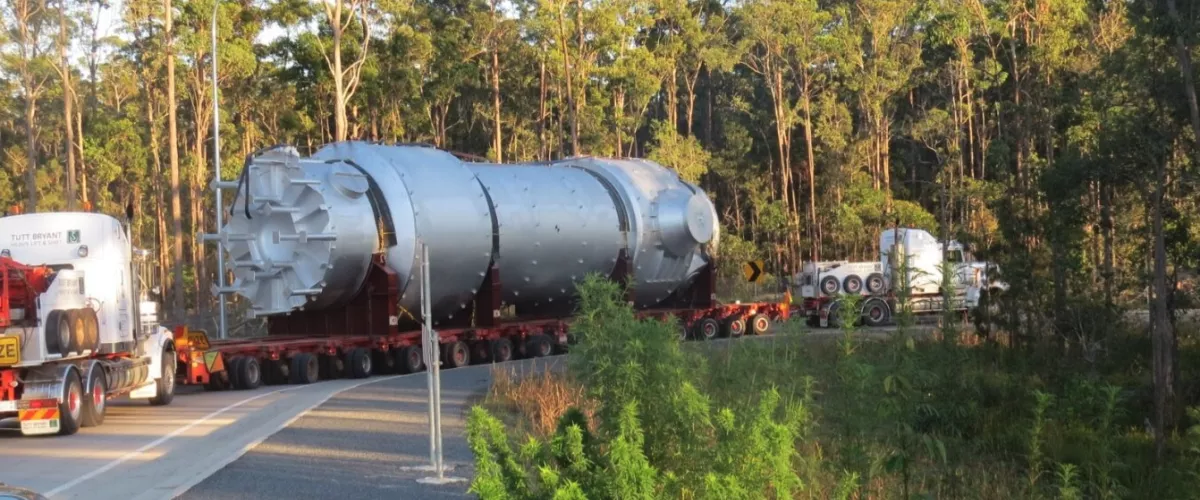 "
The successful completion of this project – to carry a shipment that weighed more than 520 tonnes through challenging terrain across multiple states – proves that the near-impossible can be achieved with careful planning and tightly controlled project management.
Project Manager
The Challenge
Our customer from the Oil & Gas industry was engaged to build two heat exchangers for the sulphuric acid manufacturing plant at the Olympic Dam mine in South Australia. The exchangers, weighing 170 and 80 tonnes, were manufactured in Coffs Harbour, New South Wales, Australia, and needed delivery to the mine site 2250km away, in the northeast of Roxby Downs. The project planning included mapping the most effective route and selecting specialised heavy haulage equipment while considering changing weather conditions, inaccessible terrain, and minimising disruptions to residents while moving through populated areas.
The Solution
The solution would take 14 days to execute from start to finish.
As a single vehicle would have been unable to tow the sheer weight of the cargo, it was decided to transport each using powerful truck-trailer combinations. The 9-day journey involved a 115m convoy of:
Six prime movers
A 112-wheel platform trailer widened to 4.5m to accommodate the larger heat exchanger
A 6-axle gooseneck trailer widened to 4.5m to carry the smaller heat exchanger
Toll's end-to-end solution included a collaborative planning process that involved:
Rail bridge engineers to ensure the convoy could pass under rail bridges in Coffs Harbour – a process that took three hours to conduct safely
Arrangements with local telecommunications companies to temporarily lift more than 700 overhead wires along the route for the convoy to pass beneath
Collaboration with the New South Wales Roads and Maritime Services to arrange the required authorisations to take the oversized loads along the planned route
Preparation of a traffic management plan reviewed by local police and councils
The Result
Using our diverse fleet of specialised heavy haulage equipment and teams of professionals, we transported both heat exchangers from Coffs Harbour, through mountain ranges and desert roads, to the sulphuric acid manufacturing plant at the Olympic Dam mine without incident.