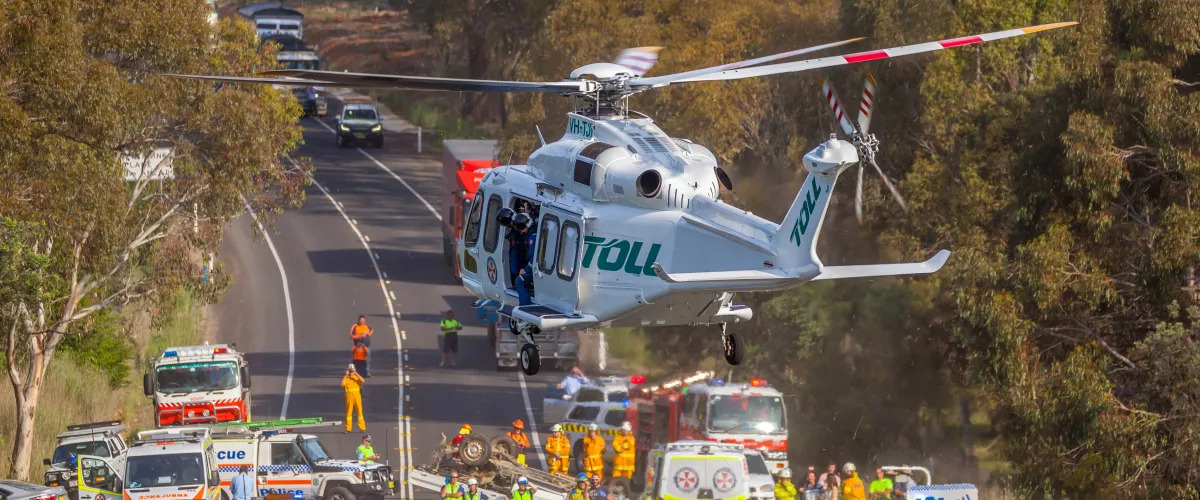 Toll Helicopters is an experienced provider of specialised mission-critical helicopter services and training for Government, Defence and the civil sector.
Safety is an obsession at Toll Helicopters. We have an enviable safety record, with no accidents or major incidents throughout our operating history.
We work with our clients to achieve their mission safely, on time and on budget every time. We lead the field in helicopter emergency medical services, search and rescue operations, airborne law enforcement, training  and logistics support – often in remote, inhospitable and challenging locations.
The training, maintenance and engineering resources integral within Toll Helicopters are world class.  When it comes to training, The Aeromedical Crewing Excellence (ACE) Training Centre is the most advanced helicopter training capability in Australia for aircrew, aeromedical and aviation specialists. It is a Leonardo Authorised Training Centre with the only OEM-approved AW139 Full Flight Simulator in the Oceania region. We excel in our own training programs and pass this expertise to our customers. 
Headquartered in Brisbane our integrated team includes pilots, aircrew, helicopter engineers, safety managers, trainers, and inventory and aviation management specialists. Together, they bring extensive civil and military helicopter experience to deliver unmatched capability to our customers.
Helicopters overview
Our highly-qualified team of pilots, aircrew, engineers and safety managers has wide experience in a diverse range of operations, under challenging conditions, including remote, maritime and mountainous locations, in all weather conditions – day or night.
But there's one thing that never changes, and that's our unwavering commitment to safety and quality. 
Our helicopter services
Operating under a CASA-approved Air Operator's Certificate (AOC), Toll Helicopters has extensive industry accreditations to deliver a wide range of helicopter services, such as:
emergency patient retrieval and medical transfer

search and rescue

passenger transfer, including overwater to helidecks

logistics support

airborne law enforcement

covert policing operations

surveillance and reconnaissance

extensive air and ground training at the world-class ACE Training Centre Facility
Safety and continuous improvement 
We understand the challenges and risks associated with helicopter operations, particularly involving inclement weather, night flying, difficult terrain, overwater flying and landing on unprepared sites, which often characterise patient retrieval and search and rescue missions.
We believe our helicopter business must provide the safest possible operational conditions for our customers and crews, and that we must continue to demonstrate leadership in safety.
For over twenty years, Toll has provided safe and assured fixed and rotary wing services for Government clients, delivering consistent, time critical capabilities including aeromedical retrieval operations.
Our thorough approach to safety and quality reflects our significant responsibilities and accountability to our customers and employees for safe and reliable operations.
Our safety record is built upon a number of key factors including:
robust safety and quality systems and operating procedures

ongoing training and skill development

strict adherence to all safety related policies, such as fatigue management

thorough review of mission outcomes, and refining practice as needed

independent peer review and audits of our policies and performance

expert progressive maintenance of our helicopters according to Original Equipment Manufacturer (OEM) requirements

ongoing testing of equipment and replacement before end of asset life

highly selective and exacting recruitment

monitoring and applying innovation and best practice within the industry.
We standardise everything that we do, in order to reduce flight-related risks. This means standardising all equipment, techniques and systems on specific contracts, thereby reducing potential for human error. Through training and monitoring, our crews make expected decisions, consistent with standard operating procedures.
Fleet and crew capability
Our integrated team includes pilots, aircrew, helicopter engineers, safety managers, trainers, and inventory and aviation management specialists.  Our team has extensive regional and global civil and military helicopter experience and Toll Helicopters is a proud veterans' employer of choice.  We acknowledge the wealth of experience and high-end training our veteran's bring to our clients. 
This experience is combined with capability to complete complex helicopter operations, such as night operations using night vision goggles (NVG), and winching / "down-the-wire" operations in difficult terrain and poor weather.
We understand our helicopters and crew need to be ready at all times to complete the missions that are critical for our customers' operations.
Our expert in-house engineering team applies industry-leading maintenance practices to ensure high aircraft availability for our customers, to ensure mission readiness.
For all contracts and aircraft types, we develop a specific System of Maintenance (SOM) to plan all line and scheduled checks and maintenance. We work with our customers to provide the best combination of aircraft numbers, including spare helicopter contingency, to maintain operations during maintenance or Aircraft on Ground (AOG) scenarios.
We store common Original Equipment Manufacturer (OEM) parts and service equipment to ensure we are responsive to helicopter engineering requirements.  For example, to ensure high helicopter operability across our large AW139 fleet, we maintain the largest AW139 inventory stores in Australia.
Customers and industries we work with
We deliver the mission-critical needs of many senior customers, including:
NSW Health (NSW Ambulance, ACT Ambulance and Newborn and Paediatric Emergency Transport Service NETS) 

Australian Defence Force

Australian Federal Police (AFP)

Australian Government departments

National and State government fire-fighting agencies

Private companies
Supporting NSW Health
In January 2017, NSW Health selected Toll to deliver its mission-critical aeromedical services, reflecting our reputation for safe, reliable helicopter services.
Every year in NSW and ACT, more than 3,000 flights are needed for emergencies such as car accidents, inter-hospital transfers, and search and rescue missions.
We're proud to be entrusted with these highly valued community services – and in order to meet this demand we operate the largest aeromedical fleet of new purpose-built AW139 helicopters in Australia.
The Aeromedical Crewing Excellence (ACE) Training Centre
The Aeromedical Crewing Excellence (ACE) Training Centre offers state of the art facilities and highly realistic mission technology designed for helicopter pilots, aircrew and specialist personnel training.
Located at Bankstown Airport in New South Wales, the purpose-built building is equipped with the latest technology and training facilities, including:
AW139 Full Flight Level D simulator (the highest fidelity available)
Virtual reality Complete Aircrew Training System (CATS)
Helicopter underwater escape training (HUET) theatre
Land and water winch simulator
Purpose built training pool
Auditorium
Utilising highly realistic mission simulation technology, our training courses ensure that pilots, aircrew and specialist personnel are equipped with high standards of training and knowledge to be prepared for any mission scenario.
http://www.acetrainingcentre.com.au/
https://www.facebook.com/tollacetrainingcentre
https://www.tollambulancerescue.com.au