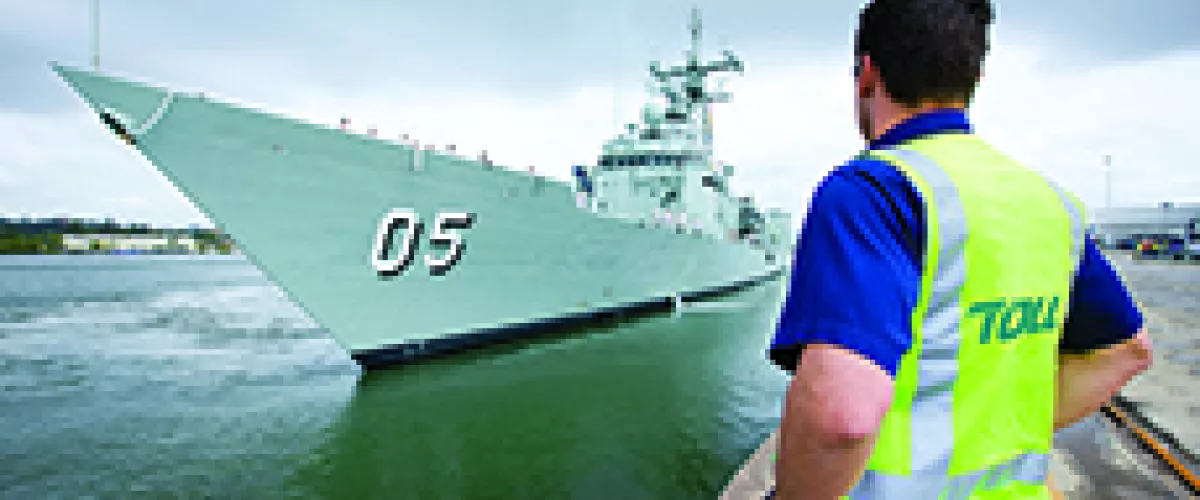 The RAN requires a variety of port and vessel husbandry services for their fleet, which is why they choose Toll as their trusted logistics partner.
The Royal Australian Navy (RAN) patrols one of the largest territorial zones in the world, from Australia's northern-most territories in the Indian Ocean right down to the Antarctic. It also covers thousands of miles each year around Asia-Pacific and the world.
The Challenge
RAN requires a logistics provider to deliver fresh food, fuel, water and provisions ready to load on board and to be ready to remove waste and sewage before its vessels depart. The scale of each operation can vary depending on the size of the vessel, which can be anything from a small patrol with relatively small requirements to multiple large vessels visiting the port simultaneously and requiring support for hundreds of personnel.
It is a challenge that requires careful planning to make all the necessary arrangements before the RAN arrives and to be in constant communication throughout a port visit.
The Solution
Toll's remote logistics has extensive experience in marine support in some of the most remote locations across the globe.
Port services personnel are on standby round the clock to coordinate local procurement and ensure all of the vessels' needs are met in a time sensitive manner in locations as diverse as Tahiti, Hawaii and New Caledonia to Vietnam and Vladivostok.
The Results
In recognition of all the hard work performed by our port personnel as well as our central support team in Brisbane, this further work was an extension of an original agreement with RAN signed in 2000.
Toll's services include: