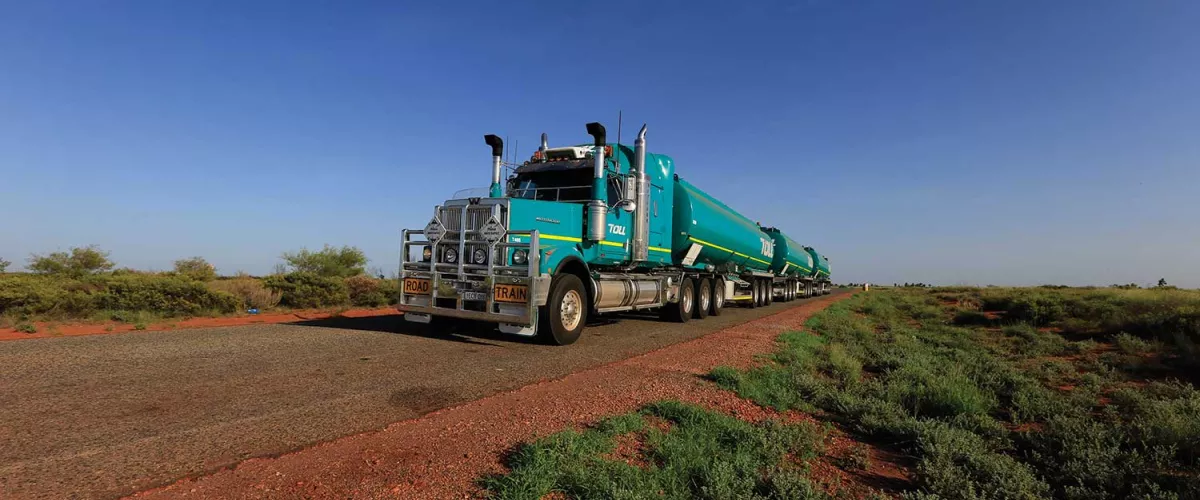 We see environmental sustainability as a core corporate responsibility, and take active measures to reduce the impact of our environmental footprint while continuing to deliver for our customers.
The Challenge
In early 2014, a Toll triple road train carrying 120,000 litres of diesel travelling through central Western Australia met with a sudden thunder storm. The truck was heading to a nickel mine site in the Pilbara region – the terrain was rough, conditions were wet and visibility was poor.
As the vehicle rounded a bend, the rear trailer left the bitumen and exceeded the safe rollover threshold causing it to overturn. The momentum of the road train pulled the upended rear trailer as it slid to the opposite side of the road, causing extensive damage to the trailer and losing more than 31,000 litres of fuel.
Thankfully, the driver was left uninjured – but the spilled fuel dispersed quickly in the falling rain and contaminated the roadside land.
The closest disposal site for contaminated soil was in Kalgoorlie, more than 300km from the Shire of Sandstone where the incident occurred.
And due to the quantity of affected soil – 2,600 cubic metres, enough to fill an Olympic swimming pool – the total cost of removal was estimated at $750,000.
Faced with a difficult and expensive restoration process, we decided to find an alternative solution.
The Solution
After the rain stopped, excavators were sent in to remove the contaminated soil and replace it.
The contaminated soil then needed to be restored. The project team researched possible solutions and discovered bioremediation – a waste management technique that uses microscopic organisms to break down hazardous substances, neutralising pollutants from a contaminated site.
Working with the local shire council, the Environmental Protection Authority (EPA) and Emission Assessments – a company that specialises in developing solutions to remove pollutants from air, land and water – we began plans to build a bioremediation pad at the Shire of Sandstone refuse site.
The plans and works were approved by the council and the Department of Environment, with local resources and labour used for the remediation pad build to support the local community.
The remediation pad introduces enzymes to the soil to break down the hydrocarbon contamination caused by the fuel, accelerating the soil's natural bioremediation process.
The site is managed by the local council; to assist the breakdown of pollutants in contaminated soil, it needs to be turned and water must be added regularly.
The Results
At Toll, we understand that while we will not always get things right, learning from our mistakes is an important part of our progress.
The project was delivered under budget, and thanks to the local climate it was delivered ahead of schedule. The warm weather elevated reaction temperatures, and what was initially thought to take six to nine months was completed in three.
Ultimately, we were able to reduce the overall cost of restoring the contaminated soil by more than $500,000 and support the local community.