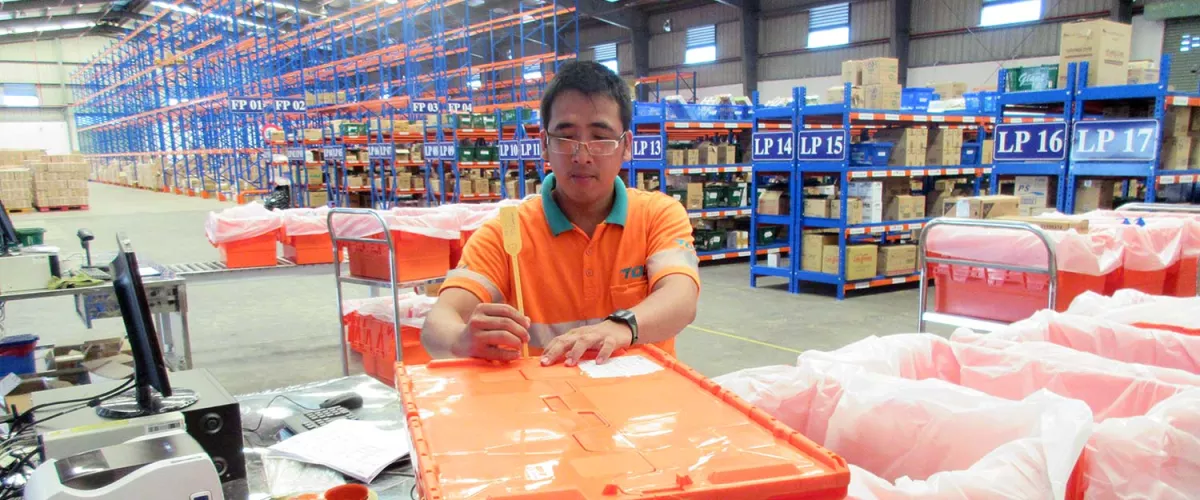 Dairy Farm, a leading pan-Asian retailer required a 3PL provider with a proven track record in delivering Distribution Centre solutions to support its growing footprint in Vietnam. With tight deadlines, Toll was able to deliver a cost-effective, safe and efficient solution based in Ho Chi Minh City.
The challenge
In 2015 Dairy Farm Vietnam (DFVN) was looking to partner with a logistics company to meet its need for a new distribution centre (DC) that would support its growing footprint in Vietnam.
Dairy Farm is a leading pan-Asian retailer. The Group operates supermarkets, hypermarkets, convenience stores, health and beauty stores and home furnishings stores under well-known brands. At 30 June 2015, the Group and its associates and joint ventures operated over 6,400 outlets and employed over 170,000 people.
The challenge for Dairy Farm's potential partner would be to design and operate a new facility to a tight deadline as well as integrate partner IT systems required for the efficient operations of a centre expected to accommodate more than 120 suppliers delivering through the DC.
The solution
Dairy Farm decided to partner with Toll, with its proven track record in developing cost effective, safe and efficient DCs.
In answer to Dairy Farm's challenge, Toll's Vietnam team sourced and designed a 3,000sqm DC solution in Ho Chi Minh City, Vietnam, which accommodates 3,400 shelving bin locations and 1,200 pallet positions required to support the piece and case picking operations of Dairy Farm Vietnam's retail brands Guardian and Giant. 
The warehouse was selected on the basis of it being the right size, a great location and fit for purpose.  Adding to the challenging operational timeline of the project was also the integration of Toll and Dairy Farm IT systems and modification of WMS Online to support the 'piece pick to tote' operation. 
On completion the DC was able to support a network of 30+ retail stores across the country, as well as facilitate the significant expansion of Dairy Farm Vietnam's rapidly growing store network.
Today, Toll, in alliance with a local transport service provider, also provides the transport services to all stores across Vietnam. The service includes   the immediate unload of returnable totes at stores with store check and delivery note at tote level, which benefits customers as well as allows for a reduction in the size of the tote pool.
Greg Lynn, TGL Vietnam Country Manager says:
"Our partnership with Dairy Farm in Vietnam is very important for a number of reasons.  Firstly, Dairy Farm is a company that shares the same values in partnering for mutual benefit illustrated with a 5-year commitment.  Secondly, the implementation of this operation gives Toll entry into a new vertical (retail) and a capability we didn't previously have in-country.  The operation will evolve over time in terms of technology, capability and scale making the future of our partnership very exciting".
The result
In less than two months, Toll went live with a new distribution centre for Dairy Farm in Ho Chi Minh City, Vietnam (meeting and exceeding the customer's challenge).
The implementation of the DC coincided with DFVN's remodelling of its supply chain from direct to store to stocked DC in two phases.  Phase one saw 40 suppliers delivering through the DC and phase two added a further 80 suppliers to the stocked DC. 
Dairy Farm awarded Toll a sustainable contract based on Toll's commitment to flexibility and scalability to support its growing footprint in Vietnam.
According to Mike Reid, Supply Chain Director of Dairy Farm:
Partnership and mature teamwork are required to make these ventures successful. Having decided to use a 3PL, we needed to find a partner able to work quickly and intuitively to build the DC to suit our challenging timescales. The nature of start ups and legacy systems meant we had little quality data to plan from, but we were clear what outcome we wanted. Toll demonstrated the confidence required to cope with the ambiguity and uncertainty caused by lack of good data, and work with Dairy Farm to build a logistics operation that allowed us to transform our Supply Chain model."