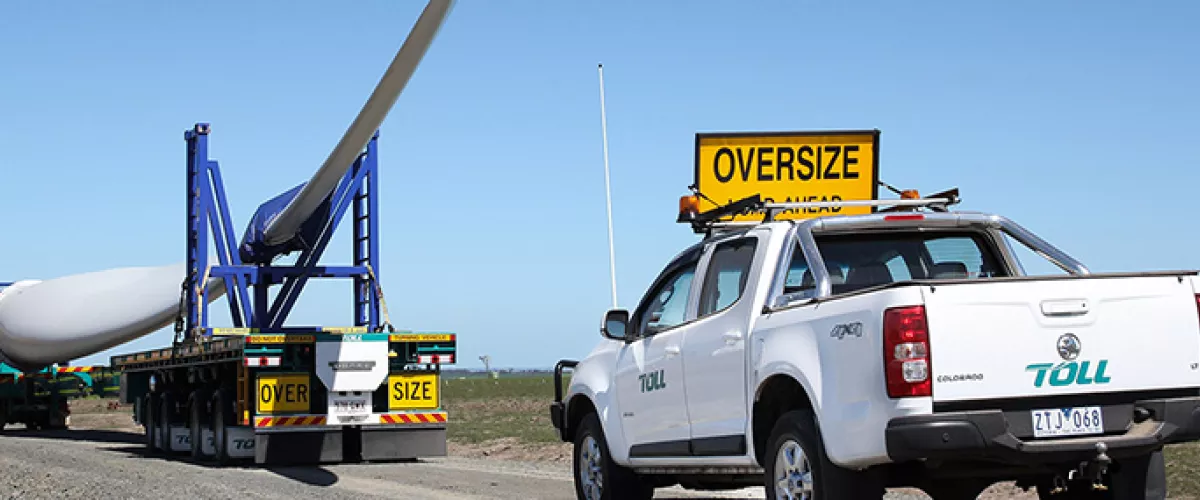 Infrastructure projects in the renewable energy sector call for specialised heavy haulage logistics support – often, the projects run to tight schedules and have complex requirements to ensure safety and compliance standards are met.
The Challenge
When Senvion Australia (previously known as REpower) were appointed by Meridian Energy – a New Zealand-based retailer and generator of renewable energy – to supply and install 64 MM92 wind turbine generators to the Mount Mercer Wind Farm, Senvion sought assistance from a company with a strong commitment to both wind energy logistics and the heavy haulage industry.
To be successful, the project also required proven experience in traffic management, liaison with government agencies and port authorities, customs clearance procedures, stevedoring, wharf cranage and quarantine compliance – exactly the type of challenge where Toll has a proven track record.
The Solution
Working with the appointed turbine installer, our first task was to receive the wind turbine components as they arrived from India, South Korea and China to Geelong Port, in Victoria, Australia.
In addition to managing port operations we were also appointed to provide safe and cost-effective land based transport to the site in Mount Mercer.
Drawing on our project logistics knowledge, our specialised heavy haulage experience and a developed understanding of the wind industry we were able to provide the appropriate structure to manage operations for the project while ensuring all necessary contract requirements and compliance obligations were met.
Other services we were able to offer as part of the logistics solution included:
Management of container movements
Re-export of components to origin
The Results
With structured systems in place and a process-driven approach we were able to safely deliver over 500 components, maintain full compliance with rules and regulations as well as build excellent relationships with other project stakeholders while engaging the wider community.