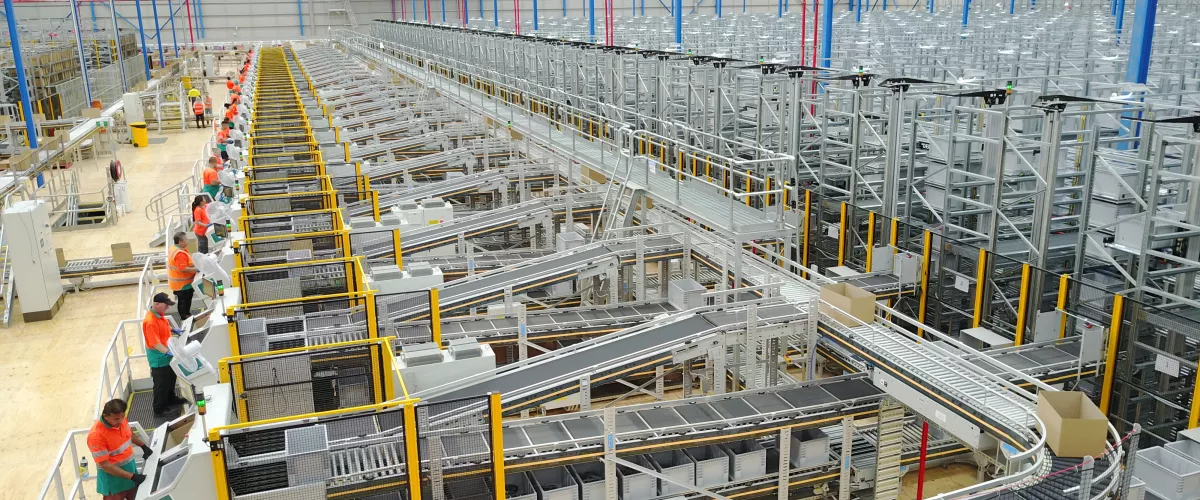 Prestons in NSW, Australia is a next-generation fulfilment centre that was designed and built to service a growing online retail market. The facility utilises the latest in automated technologies in order to drive fast, efficient and cost-effective order fulfilment to help retailers adapt to the changing needs of their customers.
The Challenge
The popularity and convenience of online shopping has given rise to a competitive, global market where shoppers expect choice, reliability and exceptional service from retailers and service providers alike. In response Toll is continuing to invest in our infrastructure, network and retail and eCommerce capabilities in order to drive supply chain efficiencies and help retailers adapt to the changing needs of their customers.
The Solution
In collaboration with our customer and leading apparel retailer Specialty Fashion Group (SFG), our in-house design and solutions team undertook a three-year project to create a highly specialised and customised processing and fulfilment centre fit for modern retailers. 
SFG's house of brands includes Rivers, Katies and Millers and through its global network of online and traditional bricks-and-mortar stores sells a garment every second. SFG also has one of the largest women's customer communities in Australasia with more than 7 million members and brand loyalty representing more than 80% of sales. So creating a facility that enables SFG to meet and exceed customer expectation is business critical.
We evaluated several warehouse solutions   – taking into account leading technologies, operational and commercial requirements – which resulted in the unveiling of the development of our new state-of-the-art retail and eCommerce fulfilment centre in Prestons, Sydney. 
This facility is one of the first in Australia specifically designed to cater for the growing retail eCommerce market. It will ensure fast, efficient, reliable and cost-effective order fulfilment that, will enable retailers to deliver product to their bricks-and-mortar stores and customers faster than ever before. 
It is set across 33,830sqm and is fitted with 15,600sqm of automation equipment, featuring the largest Goods-to-Person and multi-shuttle system in Australia, including driverless forklifts (Automated Guided Vehicles) automatic carton optimising machines and an automated eCommerce processing area.
It will operate as a multi-user hub, where Toll's  customers can benefit from a customised supply chain solution with complete omni-channel capability and fully flexible operating hours including 24/7 fulfilment ability. 
Importantly, it will also deliver major safety, productivity, cost, service and environmental benefits for our people, our customers, our business and the community we operate in.
The Result
Within its first month of operations, we successfully transitioned 60% of our anchor customer (SFG)'s product and volume (30% of the overall site capacity) and the facility is successfully processing:
7,500 online orders daily
75,000 store units picked, packed and despatched
Customer Testimonial
"The move of 50% of our brands at this time of year has been a particular achievement, with no down time to store or customer orders… We have also started to benefit from the new processes resulting from the move to Prestons.
Click and Collect – our redesigned process was particularly well received by our store teams resulting in greater simplicity and a better customer experience
Inventory – accuracy through the processes in Prestons is providing a huge improvement for eCommerce orders over the previous manual warehouse
Speedy online – with our transport provider's service and speedy online orders, customers in Sydney will receive orders before Christmas they weren't expecting
– Alex Linton, General Manager Logistics, Specialty Fashion Group